Over the course of the past 30+ years, SXSW has emerged as an important platform to talk about 'what's next' in an amazing array of areas. From science to technology to healthcare to design to movies to music, media from around the world descend on the Texas' capitol every March to meet the people that inventing the future.
Given the power of SXSW as a communication platform, ARMI | BioFabUSA was thrilled that IEEE asked ARMI founder, Dean Kamen, to speak as part of the SXSW 2018 "Tech for Humanity" Series. Kamen's core message focused on the BioFabUSA program and the opportunity presented by bringing together organizations with competencies in electrical engineering, mechanical engineering, computer science, robotics and automation together with biologists. With all of these parties at the table, there is great excitement that the potential benefits of regenerative medicine therapies will finally become realities.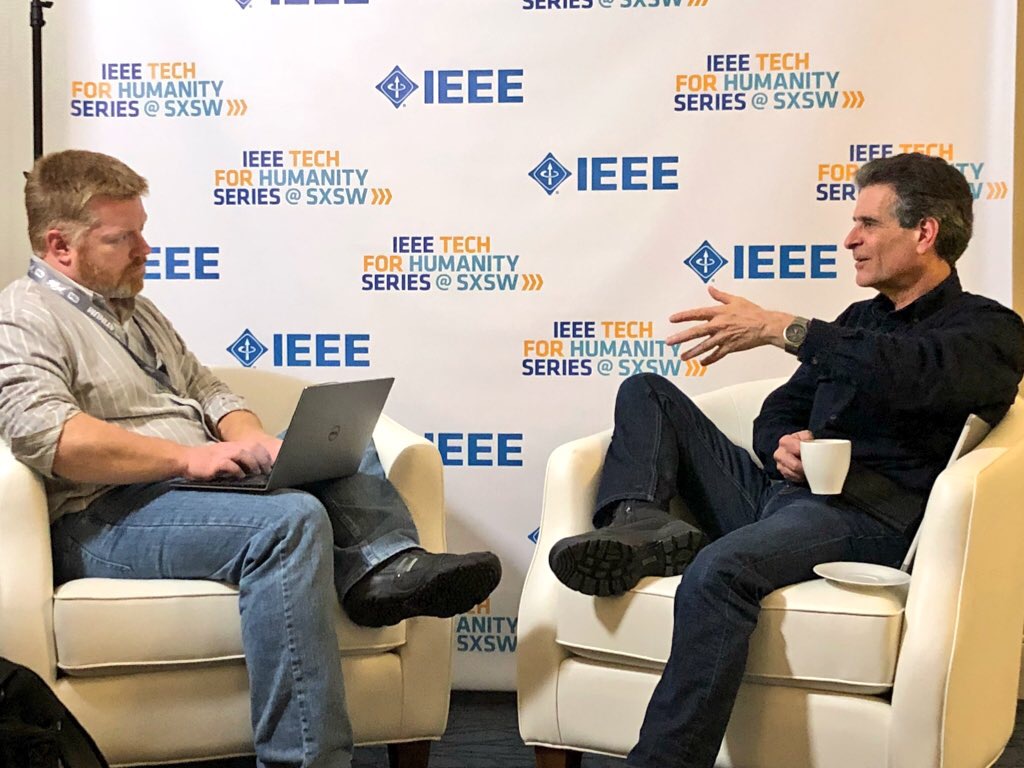 The trip centered around a session talk during SXSW Interactive on 'Regenerative Medicine & Human Tissue Manufacturing' where he was introduced by Stephen Welby, IEEE's Executive Director and COO and former Asst. Secretary for Defense, service as a featured guest at IEEE's 'Tech for Humanity' convention floor meetup and speaker at IEEE's 'Tech for Humanity' party. While in Austin, Kamen also joined a robotics panel moderated by Walter Isaacson as part of 'Dell Technologies THE EXPERIENCE' house that was recorded live and will be distributed as part of the Trailblazers podcast series. Additionally, Kamen recorded a 'Voices in AI' podcast with GigaOm's editor Byron Reese and a video segment with PC MAG's Fast Forward with Dan Costa program.
In addition to raising awareness about ARMI's work and the value it can deliver to members, the trip was also critical to informing key influencers and decision makers from the health, technology and venture capital sectors that new collaborators and a new funding source was available to support efforts by regenerative medicine companies to bring their therapies to market. This message is especially important given that some have questioned whether sufficient progress has been made in the 20 years since the concept of engineered tissues first came into the public consciousness when a picture of the 'Vicanti Mouse' was published in the Plastic and Reconstructive Surgery..
However, equally as important as the message are the new technologies and toolsets that will be delivered from the technology projects that ARMI approved for funding in 2017. These projects, which address known industry challenges like real-time and label-free cell viability sensing, commercial scale fluid management culture control systems and automated non-invasive biofabrcication monitoring systems, are critical to improving the ability of engineered tissue companies to bring to commercial scale the processes that have been developed and proven at bench and clinical scale.
The SXSW trip was part of ARMI's comprehensive national communications and event strategy that will see it host, sponsor or participate in more than forty events in 2018 reaching thousands of industry stakeholders in nearly every corner of the country.